September 2013 Newsletter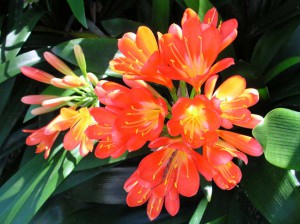 Spring has arrived and the weather has warmed up already. I suspect we shall still get a couple of cold spells, the fireplace will not be put into hibernation just yet.
The trees and shrubs are getting new growth and will soon be looking great. The Wisteria are in full bloom and look magnificent as are the Cliveas.
Spring is a fabulous time to stay on Tamborine Mountain and we would love to welcome you to our beautiful Bed and Breakfast in the coming weeks. The National Park walks are open (check with the Visitor Information Centre at North Tamborine for up to date information) and worth a walk at any time of the year.
The local primary producers have a big variety of fruit, vegetables and home made jams and chutneys for sale across the Mountain at reasonable prices. The avocados and rhubarb are in plentiful supply, well worth the trip alone to stock up.
If you book a two night weekend stay with us during September, October or November you will receive a bottle of bubbly with our compliments. Mention this offer when you book direct with us.
Don't forget our Gift Vouchers for that special friend or occasion, one or two night stays with your special requests can be arranged.
Pam and I look forward to making you welcome at Tamborine Mountain Bed and Breakfast and to showing you our special part of the Scenic Rim sometime soon.
Tony & Pam