September 2011 Newsletter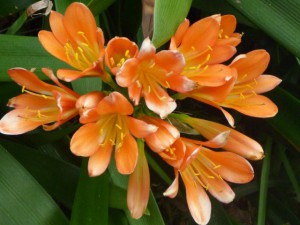 Spring has sprung!!
Tamborine Mountain is looking luscious! Some rain and warmer days have brought new growth on the trees and across the gardens with a wild assortment of colour. The clivias especially are having a great year including ours.
This is a lovely time to get away to Tamborine Mountain for a short break. The days are beautiful and the nights are still cool enough to enjoy sitting in front of a fire with a good book, and/or a glass of local Tamborine Mountain red.
You can be sure of a warm welcome at Tamborine Mountain Bed and Breakfast when you book with us, stay two nights and mention our website and receive a bottle of bubbly on arrival.
With Christmas fast approaching, check our Gift Vouchers Page. We are happy to tailor our Gift Certificates / Vouchers to suit your individual needs.
Check out our accommodation rates.
Hope to welcome you to our beautiful Bed and Breakfast in the near future.
Pam and Tony.