November 2011 Newsletter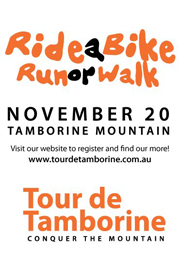 What a great Scarecrow Festival on Tamborine Mountain a couple of weeks ago. Over 200 Scarecrows scattered over the 14 kilometre trail. Better Homes and Gardens filmed a segment on the Scarecrow Festival and it will be shown on National TV on Friday 11th November.
Later this month on Sunday 20th November is the annual Tour de Tamborine premier charity sporting event. Now in its 7th year, Tour de Tamborine provides an amazing cycle, run / walk event, catering to over 1000 people and large crowds are expected.
Why not make a weekend of it? We have a couple of vacancies on the weekend if you are participating or just planning to be a spectator or a support to someone else competing.
Eagle's Nest Opera is having an operatic concert on Saturday 19th November featuring music from Puccini. Cost including three course dinner is just $65.00 per person. Contact 07 5545 2540 for more information. As Tamborine Mountain B&B is a short walk from Eagle's Nest Opera why not book a room, take in the Opera on Saturday night and on Sunday join in the fun of the Tour de Tamborine.
Spring is a great time to come and stay on Tamborine Mountain with us. The weather is very pleasant and the water falls in the National parks are flowing well.
Get away from the rat race and celebrate New Year on Tamborine Mountain, watch glimpses of the Gold Coast Fireworks from our spacious and comfortable front deck without the hassle of driving anywhere.
We are offering a special deal for December and January. For all two night bookings you will receive a bottle of Bubbly and Chocolates as a gift when you arrive.
Our Gift Vouchers are a popular choice for presents for family, friends, or staff "thank you" presents. We are happy to structure gift vouchers to individual requirements.
Looking forward to seeing you soon.
Pam & Tony Lambert and of course Elle.