March 2015 Newsletter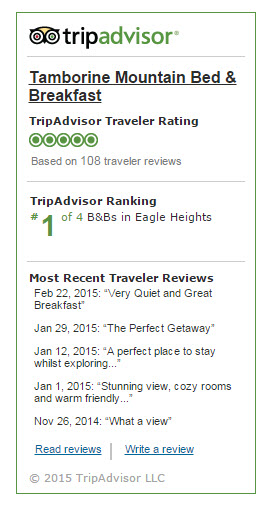 Planning a short break and looking for great accommodation at a wonderful location?
Follow this link TripAdvisor Reviews to see just what our previous guests have been saying about their stay at Tamborine Mountain Bed & Breakfast and on Tamborine Mountain. With over 100 TripAdvisor reviews from a variety of very satisfied guests, you will see that they have not been disappointed.
"The Perfect Getaway"
"A perfect place to stay whilst exploring Tamborine Mountain"
"Stunning view, cozy rooms and warm friendly hosts – perfect getaway"
"What a view"
"Beautiful place, beautiful hosts"
"Wow Awsemore!!!!"
"The real deal"
"Beautiful spot"
"The most beautiful place on the mountain"
plus lots more comments and reviews…
Our Bed and Breakfast has stunning daytime and nightime views over the Gold Coast Hinterland from the expansive front deck. A cold drink or a cup of tea on the deck is a great way to relax and unwind whilst soaking up the amazing views.
With the recent good rainfall the waterfalls are flowing and are worth a visit when you come to Tamborine Mountain and a good excuse to take an ambling, relaxing walk through the beautiful unspoiled rainforest. Always check with the Visitor Information Centre( +61 7 5545 3200 ) for details on accessibility to the National Parks.
Whilst we are close to Brisbane and the Gold Coast we truly are a world apart from the hectic lifestyle of suburbia.
Pam & I hope to see you soon at our slice of paradise.