June 2014 Newsletter
Winter is officially with us, although the weather is still very mild. We have had a few colder nights with the fireplace getting stoked up and this weekend we are sure to have guests sitting in front of the fire before going off to one of the many local restaurants.
Our gardens have enjoyed the rain we have been getting, with some plants flowering out of season. The Botanical Gardens look really good at the moment and most of our guests are visiting there.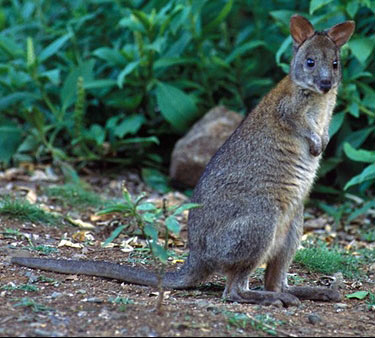 The pademelons are active in Palm Grove National Park early in the morning and late in the afternoon, a short walk from our B&B. We are also getting good numbers of birds, mainly parrots calling in for food and water from early morning to late in the day.
Our website has information about coming events if you are thinking of visiting Tamborine Mountain. At the end of June "Eat Local Week" will be celebrated throughout the Scenic Rim region. This festival showcases the food production in the local area.
Why not come and stay for a couple of days and see what is on offer in this beautiful part of the world.
Looking forward to welcoming you to Tamborine Mountain Bed and Breakfast in the near future.
Tony & Pam Lambert