June 2013 Newsletter
We can notice the change from autumn to winter this year. When the sun is shining the days are lovely, when the clouds appear the days become colder. The leaves are falling from the deciduous trees and the trees are taking on the look of silent skeletons. The new growth will be welcome when it appears.
Still a great time to visit the Mountain, plenty to do and see, with the natural attractions and the Skywalk and Glow Worm Cave as well. The wineries and eateries are providing good and varied products to make your stay more enjoyable. The galleries and arts and crafts shops are well worth a visit as well.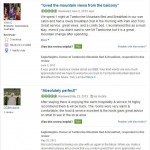 We are very pleased to now have 75 excellent Trip Advisor reviews and are ranked very highly by Trip Advisor. We have received their Certificate of Excellence for the third year running and would like to thank our guests who have made this possible.
Without your great reviews this would not be achievable.
Pam and I look forward to making you welcome at Tamborine Mountain Bed and Breakfast and to showing you our special part of the Scenic Rim sometime soon.
Tony & Pam