July 2013 Newsletter
Definitely time for wearing your winter gear when you visit Tamborine Mountain. The nights are very cool and even the locals are rugged up (including most of the dogs walking their owners in the early mornings)!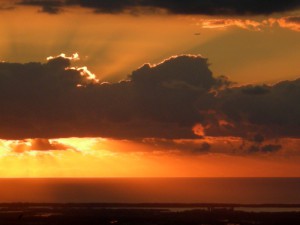 The winter sunrises are spectacular from our deck, some of our guests are getting great photos to take home with them. When weather permits, breakfast on the deck is a must for great food and good company.
It is great to see visitors to Tamborine Mountain enjoying all we have to offer on our beautiful mountain. The National Parks are a must to visit as well as the wineries, Gallery Walk, Botanical Gardens and Tamborine Skywalk to name just a few of the many varied options.
We are very happy to suggest things to do and to give guests advice on where to get the right information. A chamber of Commerce Map Brochure is the best guide to get you around the mountain with minimum inconvenience. Pick one up from us on your arrival or order one online to be mailed to you prior to your departure so that you can better plan your trip.
Don't forget our Gift Vouchers for that special friend or occasion, one or two night stays with your special requests can be arranged.
Pam and I look forward to making you welcome at Tamborine Mountain Bed and Breakfast and to showing you our special part of the Scenic Rim sometime soon.
Tony & Pam