February 2014 Newsletter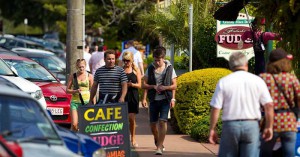 Why not consider a visit to Tamborine Mountain and a relaxing stay at Tamborine Mountain Bed and Breakfast to recharge your body for the year ahead. There is so much to do or nothing to do except relax, your choice.
The Mountain is at its picturesque best except for the lack of rushing water in the waterfalls. The walks are in good condition, plenty of flora and fauna to keep you interested while you walk and breathe in the crisp, fresh mountain air.
As always the wineries and eateries are waiting to welcome you to tempt your taste buds, and the gift shops and galleries have an array of products to interest the visitor.
We have a two night midweek stay including breakfast available until the end of March for $270 for two people. Great opportunity to relax and unwind. Please check our website for more details.
Hope we see you soon at Tamborine Mountain Bed and Breakfast.
Tony & Pam Lambert