Recipes from Pam's kitchen – Stewed Fruit Crumble
Stewed Fruit Crumble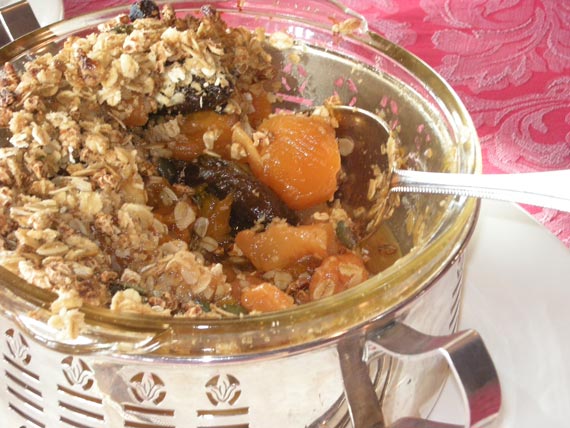 Ingredients…
250 grams of dried Fruit Salad Mix
4 tablespoons of diced canned fruit (peaches and pears) and juice
3 tablespoons of muesli mix
1 heaped tablespoon brown sugar
1 dessert tablespoon butter
Directions….
Place 250 grams of dried fruit salad mix in a saucepan with water, fill up to three quarters of the fruit.
With the lid on, heat the fruit until it boils.
Pour into an ovenproof bowl.
Add approximately 4 tablespoons of diced canned fruit (peaches and pears) and about the same amount of juice, and combine.
Allow to stand overnight in the fridge. This gives the fruit time to soften in the extra juice.
Make the crumble by combining 3 tablespoons Muesli mix with 1 heaped tablespoon Brown Sugar, rub together with 1 dessert tablespoon butter.
Sprinkle this Crumble on top the Fruit.
Heat in the oven on medium for approximately half to three quarters hour. The juice will boil through the fruit.
Turn off the heat and allow to stand for about 10 minutes before serving.
Enjoy!