November 2010 Newsletter

Tamborine Mountain Bed & Breakfast has been awarded a Certificate of Excellence from TripAdvisor for the year 2010. This award was presented due to the high review ratings given to Tamborine Mountain Bed & Breakfast by the guests that have stayed with us in 2010.
We are as 'proud as punch' and thank all of our guests that have given us reviews on TripAdvisor. We plan to do even better during 2011! – Pam & Tony
The Jacarandas are in full bloom making this a visually special time on Tamborine Mountain. Lots of flowering trees and shrubs are making their presence felt and the colours are just marvellous to see.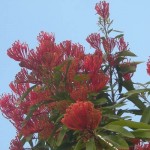 The Queensland Waratah in our front garden looks spectacular, we have never seen it looking so good.
With the abundant rainfall we have had over the last few months, the National Parks and Botanic Gardens are thriving and well worth a visit.
You will be thrilled with the mountain at this time of year.


The Tour de Tamborine event is again being held on Mount Tamborine on the 21st November and is a very important event on Mt Tamborine, with visitors and competitors travelling long distances from far and wide to participate in the walking / running / cycling activities.
Don't forget our gift vouchers for Christmas or Birthday special treats. We can adjust our Gift Vouchers to suit individual requirements and they can incorporate dinners, wine or bubbly and chocolates. Your choice!
Come and stay with us and have a great weekend on the mountain. Friendly and comfortable B&B accommodation, superb food, wine and entertainment, with lots to see and do.