August 2013 Newsletter
What a beautiful time of the year to visit Tamborine Mountain! Good weather, great walks, superb food and wine, friendly hospitality. What more could you want!!

Come and stay for a day or two and enjoy what the mountain has to offer. Our National Park walks are always enjoyable and interesting, with diverse flora and fauna in each National Park.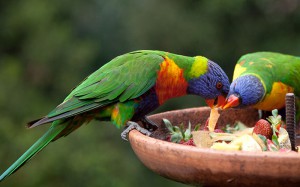 We can offer you clean, comfortable and relaxing accommodation with views that are truly amazing at Tamborine Mountain Bed and Breakfast. Breakfast on the main deck is a must with a myriad of birds arriving to enjoy the deck as well.

A stay with us can be organised to suit your individual requirements, and we can recommend attractions and restaurants to make your stay a total experience.

Don't forget our Gift Vouchers for that special friend or occasion, one or two night stays with your special requests can be arranged.

Pam and I look forward to making you welcome at Tamborine Mountain Bed and Breakfast and to showing you our special part of the Scenic Rim sometime soon.

Tony & Pam