Testimonials
Guest Testimonials
Please see below some of our happy guest testimonials taken from our Tamborine Mountain Bed & Breakfast Guest Books. Over the years Pam & Tony have had the pleasure of welcoming and hosting many guests from all over the world.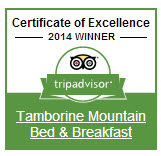 Tamborine Mountain B&B has been awarded a Certificate of Excellence from TripAdvisor for 4 years running 2011, 2012, 2013 and now 2014! This award was presented due to the high review ratings given to Tamborine Mountain Bed & Breakfast by the guests that have stayed with us.

We are immensely proud and thank all of our guests that have given us a review on TripAdvisor. We plan to do even better as we move towards 2015! – Pam & Tony

Why not consider a visit yourself to beautiful Mt Tamborine, located in the lush and serene Gold Coast Hinterland just an hour from Brisbane. Escape for a little while and come on up and visit us. You WILL be delighted and you will NOT be disappointed.
Tamborine Mountain Bed & Breakfast – Guest Testimonials

Thank you so much for a fantastic stay! Beautiful place in a fantastic location. We thoroughly enjoyed our stay and loved exploring Tamborine Mountain and the wineries. Thank you for being fantastic hosts and directing us towards some lovely walks and for the lovely breakfasts. We would like to get the chance to come back someday (hopefully soon).
Ali & Sam, United Kingdom




What a fantastic place you have up here! We were made to feel so welcome from the moment we arrived and our room was absolutely perfect. The electric blankets went down a treat. Thank you so much for providing the perfect getaway from the city life. Best of luck for the future and I'm sure we"ll see you again soon.
Hannah, Western Australia & James, United Kingdom.




Beautiful Views, amazing people, outstanding location. Thank you so much Tony & Pam for making our weekend getaway one to remember.
Jake & Sarah, Brisbane




Dearest Pam and Tony, we really thoroughly enjoyed your hospitality! The rooms are beautiful and lovely, breakfast is yummy-licious, and the special morning trail to see the pademelons was refreshing! Thank you so much for a great time! All the best to both of you! Good health and be happy.
Shannon, Jay, Jen and Eric Singapore




Super friendly owners, really enjoy the serene atmosphere and ambience. We would love to be back in the near future!
Carsten and Weilin, Singapore




Such a beautiful place, so peaceful, lovely views and very good hospitality. Would come back again.
Sinead and Padraig, Northern Ireland




The rooms were beautiful and cosy! We love the place and the great view during breakfast. Tony and Pam are so friendly, We will definitely come back on our next visit to Tamborine Mountain.
Rianne, Louis, Huishan and Derek, Singapore




Thank you so much for your hospitality. We had a wonderful time to stay for two days here. We will be back one day, see you again, Tony and Pam who are so lovely people.
Sawa and Yuji, Japan




We have enjoyed our stay, and everything was perfect and we would love to come back soon.
herese and Peter, Ballina




Had the most enjoyable time. Very comfortable, bed was great. Brekky was something to look forward to each morning. Would happily stay with you again.
Denise and Brian, Ipswich




Thank you for a relaxing and enjoyable weekend. The place offers a lovely home away from home. Take care, thanks for having us.
Robert and Michaela, Brisbane




Thank you Pam and Tony for a lovely stay. Enjoyed the brisk mountain air, yummy food and rainforest walks. Loved your no fuss but caring attitude.
Linda and Jeremy, Brisbane




Absolutely beautiful, loved our stay, for our 2oth Wedding Anniversary. Perfect Thank you.
Sandra and Bruce, Brisbane




Thank you Pam and Tony for a wonderful stay, PERFECTION.
Karina and Bernard, Hobart, Tasmania.




Perfect spot in a nice secret location! Far from the tourists! Lovely welcoming hosts. Great break close to home. Thank you.
Judy and Derek, Brisbane




You must be doing something right, this is our second visit and just as enjoyable as the first.
Ken and Verna, Palmwoods




What a find! We have had a really lovely stay, beautiful clean, just a delight. Thank you so much. Hope to come again.
Debbie, Pete, Matt and Karmen, Brisbane.




We stayed for ten days. Tony and Pam treated us with the same passion every day. They gave us an excellent breakfast every day. Thanks very much.
Geoff and Annabelle, Port Headland.




Beautiful place and we had a wonderful stay. Thank you so much.
Leyla and Stu, Germany




A wonderful stay in paradise. Thoroughly recommended.
Richard and Trish, Perth

Thanks so much for your hospitality and service. What a wonderful place to stay. Amazing views, breakfast and service.
Matt and Jeanette, Seattle USA




Came for the beauty, welcomed the scenery, fell in love with the cockatoos at breakfast and the lorikeets in the tree. Thank you for a great stay.
Dianne, Brisbane




Thank you for a wonderful stay! I felt right at home and relaxed. The bed was divine.
Vicki, Brisbane




What a delightful stay? You have a beautiful place, wonderful hospitality and SUPER breakfast! New friends in Australia.
Sidney and Buck, Texas USA




What a great weekend! Celebrating a 60th birthday. Relaxing and thoroughly enjoyable! Hope to return sometime soon.
Ash and Glen, Burleigh Heads




Thank you for a great and cosy place to stay. It's very refreshing having a holiday where you're welcomed into a home away from home. You have a beautiful/very beautiful view. Will be back again.
Tegan and Keith, Brisbane




Lovely place, lovely views, lovely food and a lovely couple.
Phil, England




Was a great experience. Very peaceful and enjoyable. The hospitality was magnificent.
Bruce and Sharleen, Forest Lake




Thank you for such a warm and friendly welcome. Our stay has been comfortable and relaxing. We may return again and will happily recommend to friends.
Bryce and Pam




The loveliest people, beautiful cabins and extremely comfortable beds. We will definitely be back to spend more time.
Peta and Brad, Sunshine Coast




As usual we've had a lovely stay on the Mountain. We would recommend your place to all our friends.
Ted and Corienne, Gold Coast




Thank you for a most welcoming and comfortable stay and of course "that view".
Jan and Roger, Isle of Shoppy Kent England UK




Relaxed, unwound , exhilarating views, fantastic Aussie home, natural wood very earthy, beautiful wildlife. Thank you. Look forward to returning.
David and Manyia, Noosa




Tony and Pam, you have a piece of paradise! Great Views, great service and a great time was had.
David and Leanne, WA




What a great weekend! Celebrating a 60th birthday. Relaxing and thoroughly enjoyable! Hope to return sometime soon.
Carol and Linda, Brisbane




A very pleasant stop at Tamborine Mountain. Much appreciated accommodation and kind hosts. Very comfortable and lovely breakfast with fantastic views. Thank you.
Yvonne and Martyn, Lymington England UK




Heavenly break, really clean, beautiful birds, hospitable and friendly hosts.
Derek and Carmel, Noosa.




Thank you for a lovely stay, great hosts beautiful, views, great shopping.
Ann and John, Cleveland.




You have a wonderful place, view, peace and quite (except for the wildlife which is acceptable). We really enjoyed our stay. Thank you for the experience.
Patricia and Ted, Brisbane.




Thank you Pam and Tony for your amazing hospitality and for the blessing of staying in your fantastic accommodation. We loved our stay and would definitely come back. Kindest regards.
Kim and Susan, Brisbane.




What an amazing time we have enjoyed with our hosts. Thank you so much for your hospitality. We have enjoyed our time here on the roof of the beautiful Gold Coast and all the beauty of the Tamborine Mountain area. Thanks.
Craig and Robyn, Brisbane.




Wonderful spot with gracious hosts. A very friendly comfortable base from which to explore "the Mountain" Thanks.
Jackie and Kevin, Brisbane.




Dear Pam, Tony and Elle (of Course), enjoyed our "too brief " stay. Great company. Great breakfast and great place. Certainly a wonderful place.
Coral and David, Brisbane.




Thanks for a lovely relaxing weekend. Great location and wonderful company.
Eileen and Ian, Toowoomba.




Thank you for helping us share our 2nd wedding anniversary. We feel very spoilt. Take care, see you both soon.
Conlan and Tegan, Brisbane.




To our wonderful hosts, Pam and Tony. Thank you for your most welcoming hospitality. We felt like we were in a home away from home. Its been wonderful sharing the Scarecrow Festival with you and the wonderful locals we met during our stay We will see you both again.
Baz and Julie, Brisbane.




Thank you so much! We enjoyed our stay tremendously! Lovely place, even lovelier couple! See you again soon.
Paul and Yvette, Southport.




Enjoyed our stay, very comfortable and relaxing.
Bruce and Wendy, Brisbane.




Beautiful setting, beautiful room, yummy breakfast!! Will be back.
Alan and Cathy, Townsville




It was a beautiful stay, fantastic views! The room was lovely & breakfast was fantastic Thank you very much!
Sandra, Stanthorpe




Thanks Pam and Tony for a great three days. Beautiful views, rooms, hospitality and great food. Highly recommend this as a lovely B&B.
Maria and Pascale, Brisbane




Wonderful B&B, amazing views and thanks for all the lovely little extra touches in the room.
Jo and Clive, Brisbane




Home away from home! The most wonderful comfortable and friendly place you could ever hope to encounter. Thank you for everything, Pam and Tony, See you again, I hope. Best wishes
Cheryl, Brisbane




This is a beautiful place, you have done an amazing job and created the perfect scenery for the perfect stay. Breakfast was incredible. Congratulations for your home, and once again thank you for everything.
Madhya and Andres, Norway.




Beautiful Stay and the best bed I've ever slept in! Love your wonderful property & will most definitely be back if we are up this way.
Shari and Glen, Melbourne




Beautiful place with amazing views. Breakfast was lovely, looking forward to coming back.
Toni and Kristy, Gold Coast




Thank you very much for an amazing stay. The accommodation, food and ambience were all PERFECT. Thank you again.
Pauline and Wesley, Brisbane




A wonderful spot for a getaway, great company, beautiful views and scrumptious food. Many Thanks.
Marlene and Coralie, Brisbane




We have had a great weekend here. The room and your company, plus that of the other guests was terrific. Using your B&B as a base was something of a novelty to use to visit this wonderful part of Queensland. Thanks again for being "Top Hosts". I will talk about your breakfasts for a long time.
Tony and Mary, Uki NSW




Thank you both for sharing your wonderful view and knowledge of paradise.
Kim and Rob, Sulky VIC




Thank you Pam & Tony for welcoming us to your beautiful home. We will return when we can and had a most enjoyable and relaxing time.
John and Teresa, Monterey Keys Gold Coast.




Thank you for a wonderful tranquil stay, accommodation and atmosphere brilliant . Will come again and also recommend. Thank you again.
Cathy and Jim, Brisbane.




Splendid!
Jude & Gerard, Leslie & Martin




Thank you for providing such a lovely place! It's sooo amazing to stay in such a beautiful country house. So proud of you to have kept the place stunning yet comfortable. Hope to stay with you again.
Fiona, Malaysia




Great views and peaceful surrounds. A lovely spot to relax.
Jo and Craig, Brisbane




Thank you Pam and Tony for your wonderful hospitality. The peace and tranquility was just what the Doctor ordered (And you have the best coffee).
Helen and Heinz




We have had a lovely weekend despite the rain on Saturday. The view from the deck is fantastic. Would love to return to visit again
Barbara and Colin, N. Devon, England.




What a wonderful spot you have here, a memorable two days, and not because of the weather! Your hospitality has been exceptional. Thank you for your making us so welcome and comfortable.
Jan and Mark, Toowoomba.




Thank you for this beautiful stay in this beautiful location. This place is really nice and cosy. Friendly and welcoming hosts. Thanks and might see soon.
Laure and Loic, New Caledonia




Came away for a relaxing weekend away from the hussel and bussel of city life. Never been more relaxed. Thank you for your warm and inviting B&B.
Barb and Justin, Gold Coast




Absolutely awesome, sooo peaceful and wonderful views! Great hosts, we will be back again and again.
Gina and Russ, Brisbane




Thank you both for sharing your wonderful view and knowledge of paradise.
Kerri and Rob, Victoria




Thank you Pam and Tony for your hospitality. Warm cosy accommodation, wonderful breakfast. Nothing was to much trouble. Will tell all our friends.
Sharon, Adelaide




Thank you Pam and Tony for welcoming us to your beautiful home. We will return when we can and had a most enjoyable and relaxing time.
John and Teresa, Gold Coast




Very relaxing environment, great to get away and kick back. We had a wonderful time.
Tim and Fiona, Brisbane




We have had a fantastic stay, you have a beautiful place. Thank you so much for your wonderful hospitality.
David and Fiona, Brisbane




You have the best house on the mountain, a delightful combination of views, trees, and wonderful hospitality. Thank you and we'll be back.
Akosi, Mally and Reyer, Africa




What a lovely place! Thank you so much for a great nights stay! You will definitely see us again.
Josh and Belinda, Gold Coast




Thanks so much for your warm hospitality and such a relaxing start to our day,Terrific breakfast.
Pam and Don Red Deer, Alberta Canada




Thank you so much for a lovely weekend Tony and Pam, wonderful hosts. Fantastic breakfast, lovely room, magnificent views. We would highly recommend.
Sharon and Trish Lowood




Thank you for the lovely stay, delicious food, spectacular view and hospitality. All the best.
Marena and Jed, Poland.




Thank you for your generous hospitality. We have so enjoyed our stay& will be back.
Emma and Luke, Brisbane.




Thanks Pam and Tony for a wonderful stay. It has been a pleasure meeting you both and so relaxing. We shall definitely return. Great food, great place. Thanks again.
Terry and Robyn, Sunshine Coast.




Dear Pam and Tony, Thank you so much for a wonderful place here and thanks for the generous hospitality.
Alice and Matt.




Many thanks for a good holiday, we really enjoyed breakfast on the deck.
Alison and Rod, Brisbane.




Thank you for a lovely night and a yummy brekky, we will be back hopefully with a group. We felt right at home. Thanks.
Paul and Chrissy, Brisbane.




Thank you very much for making our late decision stay a beautiful one. We could sit on your beautiful deck for hours!
Hayley and Matt, Brisbane.




Thank you very much for a wonderful stay, it was well worth it, especially with the beautiful view. Thank you!
Cathy and Phillip, Gold Coast.




Thank you for a wonderful, relaxing stay. We shall be back.
Deb and Jose, Brisbane




Thank you so much for providing a delightful, relaxing 'home away from home'. The views are fantastic, the food delicious. We shall be back!
Jane and Ray, Brisbane




The room is really pretty and I love the view!! It's been a great experience staying here. I wish you both good health and happiness for the years to come. Cheers!
Jiahui and Jaymie, Singapore.




What a lovely place! Peaceful, quiet and a delicious breakfast. Love Elle the dog too. Thanks so much.
Charlotte and Scottie, Brisbane




Tony and Pam, Thank you for allowing us to stay with you. You are amazing, friendly and helpful. We can't wait to come back!
Trish and Peter, Toowoomba




Had a nice time. Enjoyed it very much. We will be back.
Mark and Kathy, Mackay




Tony and Pam, really enjoyed your wonderful home, view, and excellent breakfast. Your hospitality was greatly appreciated. Warm and beautiful home , complimented by the two of you. All the best, We'll come back again.
Gemimah and Garth, Brisbane




Thank you so much for a very comfortable, relaxing and friendly stay and for the the Davidson plum jam! Yum!
Jay and Jan, Brisbane




Pam and Tony, thanks very much for a fantastic few days. We loved the atmosphere and your hospitality. We will definitely be back some time. Thanks also Tony for going that extra mile for us.
David and Jenny, Toowoomba




Thank you Pam and Tony for a relaxing and comfortable visit once again. As usual the food was delicious.
Kevin, Brisbane




I had a great time and the breakfasts were delicious and the room was very comfortable.
Eunice, Toowoomba




We found this through the internet and couldn't have been more pleased. It was a perfect stay and so beautiful. Thank you for all your recommendations. Hope you come to Oregon. Cheers,
Mere and Scott, Oregon USA




Loved our room, loved the view from the deck. Enjoyed our exploring of Tamborine Mountain. Everything was great. We had a gift voucher from our son and daughter-in-law and family, and we are so grateful. Thank you for your hospitality.
Jan and Doug, Waterford




We thoroughly enjoyed our third visit, beautiful place and beautiful people.
Brian, Brisbane




Such a lovely place and wonderful hosts. Found this place on the Internet and were delighted. Many Thanks,
Ken and Nuu, Norfolk, England




Thank you Pam and Tony for a lovely stay – I'll certainly recommend your B&B to my friends and family. Great view, wonderful room, warm hospitality, who could ask for more?
Jill, Brisbane




Thank you Pam and Tony, for being wonderful hosts and the view is stupendous!!
Tom, Johannesburg, South Africa




What a great place, in the trees, filled with wildlife. Amazing views and friendly hospitality. Such a great experience we didn't want to leave. Tamborine Mountain is a magical place.
Sara and Dan, Gladstone




Thoroughly enjoyed our stay. Awesome views, brief as it was. Breakfast was great, we'll be back.
Hone and Lise, Brisbane




Thank you for such a wonderful breakfast and stay. We are sure to recommend this b&b to our friends and family.
Ryan and Terri, Brisbane




Beautiful views and hospitality. Rooms nicely decorated and very comfortable, would love to come back.
Linda and Pete, Cairns




Home away from home! Please keep a room for us in June/July. Cheers
Eileen and Greg, Brisbane




Thanks for your hospitality and the opportunity to really relax. We have had a great weekend, courtesy of the wonderful accommodation and your friendliness.
Wayne and Catherine, Warwick




We had a great time staying at your b&b. Hope to come back for Christmas in July. The rooms are really great and the garden is an absolute credit to you both.
Brian and Margaret, Brisbane




Thank you for your wonderful hospitality. It was wonderful to stay in your beautiful b&b, thanks.
Nick & Stacey, Brisbane




Fun in the showers! Views and clouds. Just a great spot and thanks Tony & Pam for your interest and kindness.
Jonathan and Pam, Albany WA




Thank you for your hospitality and wonderful breakfast. it was lovely to stay in such a great b&b. Thank you.
Kirk & Danielle, Buderim Qld




You have a lovely property, glad we were able to stay here,. hope to return in 2011
The Brown family, Houston Texas




This was lovely, so relaxing. Thank you for your great hospitality.
Melinda & Gavin, Brisbane




Lovely environment and great place to stay. Thank you.
Bjane, Jens & Aire, Sweden




Thanks for a lovely stay. an absolutely fantastic place, great breakfast.
Jim & Kris, Everton Park, Brisbane




We had a lovely time at your b&b. the weather was grim, the welcome and hospitality was warm.
Chris and Pippa, Brisbane




Thank you for a wonderful stay. Great views, a great breakfast and superb hosts.
Shirley and Barry, New Forest. England




Very impressive, not just for the views but for the whole package! This was our last B&B before visiting Family and we can say it was the best of the whole trip. Warm and comfortable hosts and lots of wildlife info also. Thank you!
Chris and Reg, New Forest. England




Beautiful spot and very welcoming Thanks!
Ann and Kristy, Brisbane




What a wonderful setting! Room was lovely, clean and comfy. Atmosphere is absolutely gorgeous. Thank you for a nice stay, we'll be back.
Bruce and Marj, England




Great breakfast, comfy beds,very friendly, very happy with the experience.
Paul and Denise, Brisbane




Wonderful experience, spectacular views, just a wonderful relaxing stay. Thank's so much.
Mandi and Neil, Brisbane




Cosy atmosphere, very comfortable, delicious brekkie!! Thank you.
Rebecca and Mark, Brisbane




Everything was just beautiful, the room was gorgeous and cosy, and breakfast was delicious and fresh. Thank you for having us, we hope to come again.
Judy and Neville, Brisbane




What a lovely setting! Room was lovely, clean and comfy. Atmosphere is absolutely gorgeous. Thank you for a nice stay, we'll be back.
Eva, Brisbane




Thank you Pam & Tony for your hospitality. We loved the room, the fire and breakfast. Will recommend and be back.
Kristy and Andre, Gold Coast




Pam & Tony, Thank you for making our overnight stay a relaxing experience. Wonderful views and great to be so close to nature.
Cherie and Ian, Brisbane




A lovely location with stunning views and best nights sleep ever. It was a thrill to walk to the rainforest and see the Pademelons. Thank you Pam & Tony for an enjoyable 2 night stay. Wish we could stay longer and hope to return.
Sandra and Paul, Adelaide




Very enjoyable, very cosy, felt most welcome. Liked the room and the personal touch. We could make the trip again sometime.
Ian and Gwendela, Northern NSW




Absolutely beautiful place! Thank you for your hospitality. Love the strawberry and rhubarb jam.
Carolyn and Rob, Sydney




Thank you for a great stay, great people, great food. Thank you!
Ross, Townsville




Thank you for a lovely stay. Breakfast was delicious. We will make sure we always stay here when we visit Tamborine Mountain.
Hayley, Brisbane




Thank you both for an excellent place on our special 25th Anniversary. Breakfast was awesome. You both are beautiful people and we will recommend this place highly.
Glen and Michelle, Gold Coast




Dear Pam and Tony, Superb! Had a ball, thanks for the lift and all the tips.
James and Gina, Gold Coast




Dear Pam, Tony and Elle, thanks for your hospitality, I've really enjoyed my stay (this is my third visit!) Your B&B is a home away from home! See you again next time I'm in Queensland.
Kim, Perth




Thank you for such a restful time in your lovely B&B. The setting is amazing, enjoyed the yummy breakfast and entertaining birds. We had a great day and appreciated your gracious hospitality.
David, Townsville & Linda, Southern California




What can I say. Very peaceful, warm, great hospitality, will definitely be back. 10/10 guys!
Kelly, Brisbane




Thank you for being such wonderful hosts. The room and the rest of your Guesthouse has so much style… just lovely, and of course the view of the Gold Coast and the great breakfast.
Marc, Germany




Wonderful mountain retreat, enjoyed your hospitality and lovely accommodation.
Pam & Terry, Currumbin Gold Coast




Exceeded all expectations. Hope to return.
Sue and Allan, Taupo, New Zealand




Wonderful experience, nice to be lazy and just enjoy the atmosphere and wildlife.
Betty and Ivan, Brisbane




Guys, we have just enjoyed every minute of our stay. Thank you so much for your hospitality. I absolutely loved that bed in room one. We'll see you again!
Alina and Ruben, Brisbane




What an amazing jewel on the mountain. Stunning views and superb hospitality. 4 nights and it wasn't enough. We're coming back for more.
Colin and Huey-Bing, Brisbane




Had a lovely stay here and would return to stay again. The hosts were just great and very friendly.
Mike and Lee, Brisbane




Comfortable bed, delicious breakfast. It was lovely to wake up with the birds.
Donna and Paul, Brisbane




What a wonderful setting for a quiet getaway. We enjoyed our one night stay with what was a delightful breakfast complimented with fantastic views from the balcony amongst the friendly bird life. We will recommend you to all. Well done. Thank you.
Jackie & Mark. Coomera Springs




Pam and Tony, finding our way here was a delightful treat! We were a long way from home and felt so welcome. Such a beautiful spot to enjoy, our only regret is our stay ended too fast! Thank you for everything
Michelle and Don, Oswego New York USA




Thanks for a very relaxing stay, rooms were great. Food was even better, Awesome views.
Matt & Helen, Beachmere




Wonderful views from a fantastic B&B, Many thanks, we had a great time
Boyd & Ann, Noosa




A very pleasant place to put your head down for the night. Breakfast was superb
Maureen & Glen, Perth




Thank you for the wonderful stay, you have a beautiful home and the views are amazing, as are the Hosts!! We shall definitely be back.
Joel & Taul, Brisbane




This was a very special holiday for us, made all the more special by your kindness and the atmosphere of your B&B
Pat & John, Brisbane




Amen, praise the Lord for his creation. Thank you for sharing your home and your heads with us over a lovely breakfast . May you always appreciate what you have received.
Troy & Donnalee, Brisbane




What a wonderful piece of paradise. Peaceful, tranquil and with beautiful birds. Thank you for being so very friendly and welcoming but providing space.
Kim, Brisbane




Fantastic views, great healthy breakfast & a homely room that made us feel welcome. We look forward to the next visit.
Daniel, Sydney




A truly amazing place! Views are incredible and the hospitality really warm. Thank you, we will remember our stay with affection.
Amanda & Phil, UK




We had a lovely relaxing time. The views were amazing and ever changing. I particularly liked the friendly atmosphere and talking to the other guests. I loved the Breakfast!!! What a fabulous birthday present for today.
Louise & Ellen, Brisbane




Pam & Tony, you have been more than gracious and made our stay with you memorable! We felt we were at home and we have every plan to return.
Doug & Sheilagh, Canada




It was lovely to return to this beautiful spot on the Mountain. Thank you again.
David & Mary, Gold Coast




Thank you for a beautiful room and wonderful hospitality. The breakfast was delicious and the surroundings were tranquil and luscious. We would definitely come back again.
Kate & Gavin, Brisbane




Wonderful hosts, fabulous food, great accommodation, what more could anyone ask for – oh, of course the great views!
Kevin, Brisbane




The highlight of our trip
Dan & Andi, Melbourne




Fabulous hosts, fabulous location & a fabulous start to the New Year
Celeste & Wayne, Gold Coast




Great views for an artist and lovely hospitality
Marion, Darwin




Excellent, love the personal touches
Cedric & Edith, Ireland




A delightful experience to be in a world away from our world, spectacular views of fauna and flora. Service was exceptional and breakfast delicious!! We shall return
Glen & Julie, Brisbane




Five girls from the Coast had a great time, the hospitality was amazing. We shall be back with our husbands in tow
Fay, Gold Coast




We could not have arrived in Australia after our arduous journey to a finer welcome. Thanks especially For the flags on our independence day in America, for the birds at breakfast, for the tips on the Mountain and for many kindness's
Ann & Gerry, USA




Pam & Tony, Thank you for making us feel so welcome. The food, room and conversation was five star, we shall be back
Jim & Jodie, Brisbane




Lots of laughs & beautiful gardens. Thank you for reminding us of the beautiful things in life
Melanie and Len, Brisbane




Many many thanks for the excellent stay with you. The electric blanket was most welcome and the stewed rhubarb was superb. Thanks again hope to see you again
Bridget & Barry, England




This is the most beautiful place we have stayed and you are so friendly and made us feel we were home. A stunning view and very comfortable accommodation. Our stay for our daughter's wedding was perfect
Julie & Doug, Iluka




A wonderful weekend, accommodation to dream of, a devine breakfast, wonderful hosts, perfect views. Would I come back,yes, Would I recommend this place to others, definitely!
Marilyn, Sydney




Thank you for a great weekend. This is a very special place
Peter & Jan, Brisbane




Sheer delight, the hosts, views, brekkies, accommodation . So relaxing. Thank you
Dot & Bob, Sydney




Memorable stay, great views and excellent service, quiet and comfortable,would recommend to everyone
Margaret & Max, Melbourne




Awesome location, wonderful hosts, lovely dog. A pure piece of paradise. Loved it and a view to die for! We'll be back
Helen & Chris, NZ




Thank you very much for lovely time we had spending the days at the best B&B with the most wonderful view. We enjoyed it very much and wish you all the best for the future
Lucio & Ernesto, Italy




This is truly a wonderful, friendly & memorable B&B, with fantastic food and most importantly lovely people. Thanks for making our stay a great one.
Margie, Gold Coast




Warm gregarious hosts, fabulous views, great comfy beds , totally enjoyable. Thank you
Lynne & Craig, Brisbane




Just lovely, thoroughly enjoyed the total ambience of the place. Great brekkies, cosy accommodation & views to die for.
Sue, Gold Coast




What a great experience, the birds, the view, the silence, the food, the conversations, all filled the soul.
Bruce & Sherri, Brisbane




Lovely place, lovely people, Elle, the beautiful dog, great food, million dollar views.
Tina & Dave, Cairns




Thank you so much for making our stay here both enjoyable & comfortable. Tony & Pam, you have been brilliant hosts; providing wonderful services and so friendly. The rooms are very clean & comfortable. We thoroughly enjoyed the beautiful view. God willing, if we come here again we will definitely come back here and we will recommend TMB&B to our friends. Please do come and visit us if you drop into Singapore. God bless you richly.
The Tan Family, Singapore




This is our second time back in this HAVEN. What a wonderful circuit breaker to the craziness of city life and small business. Pam and Tony, your hospitality is unparallelled! Thank you for looking after us !
Mandi & Margie, Brisbane




What a glorious spot! So glad we found you. Thank you for your wonderful hospitality.
Stan & Lynne (The Texans), USA




Had a great 14th Wedding Anniversary here hosted by you. A very special place. We hope to see you again soon.
Roger & Jane, Brisbane