FAQ
Tamborine Mountain Bed & Breakfast FAQ (frequently asked questions)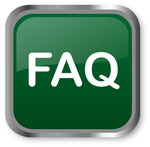 Please view below our FAQ (frequently asked questions) to help you with any queries that you may have. Just click on any question and the answer will be displayed or use our 'Search FAQ' Box to help you find an answer to your question/s.
Should you have a particular question that has not been answered then please view our contact us page. Pam or Tony are only too happy to assist you in any way that they can. Whatever the question, please ask and we will do our very best to accommodate you.
View questions here..
Do you have High Speed Wireless Internet?
Yes, High Speed Wireless Internet Access is available free of charge to all Guests. Bring your own Laptop, Notebook, Netbook, iPad or Smartphone and simply connect. Use the Guest Lounge or the large deck (with simply the best views over the Gold Coast) or connect from your room.
What Credit Cards do you accept?
We accept both Mastercard and Visa credit cards.

We do NOT accept Diners Club or American Express.
How warm / cold does it get on Mt Tamborine?
Mean Max/Min temperatures (statistics supplied by Australian Bureau of Meteorology) ...

Jan - 25.5°c / 17.3°c
Feb - 25.4°c / 17.2°c
Mar - 24.4°c / 16.2°c
Apr - 22.7°c / 14.1°c
May - 19.7°c / 11.3°c
Jun - 17.7°c / 9.1°c
Jul - 17.0°c / 7.9°c
Aug - 18.2°c / 8.7°c
Sep - 20.1°c / 10.5°c
Oct - 22.3°c / 12.9°c
Nov - 24.4°c / 14.8°c
Dec - 25.4°c / 16.2°c
What size beds are in the Guest Rooms?
Lorikeet Suite - King Size bed
Kookaburra Suite - Queen Size Bed
Cockatoo Suite - Queen Size Bed & a Single Bed
Rosella Suite - Queen Size Bed
What facilities are provided in the Guest Rooms?
All our Guest Rooms are en-suited with Reverse Cycle air-conditioning, TV with DVD (some movies are available), some reading matter, Coffee/ Tea making Facilities, Bar Fridge, a small Table with 2 chairs. All rooms have opening windows which overlook the beautiful gardens.
What to wear whilst visiting Mount Tamborine?
Whilst it can get warm in the daytime during the summer months on Tamborine Mountain (Dec, Jan & Feb), the evenings can sometimes be cool so it is always wise to bring along a warm jumper or coat just in case. Of course during the winter months (Jun, Jul & Aug), 'mountain weather' dictates that you bring warm clothing.
Do your Guest rooms have a view?
Each room shares a deck which has a coastal vista over the garden. Both the Lorikeet and Rosella Suites have a view from the eastern window.
How far is Gallery Walk from our B&B accommodation?
Very close. Approximately, a 15 min. walk or a few minutes drive away.
Do you have an Environmental Policy?
Yes we do, please goto our Environmental Policy Page
How often does it rain on Tamborine Mountain?
Statistics supplied by Australian Bureau of Meteorology...

Wettest Months - January (248.3 mm), February (219.1 mm) & March (201.9 mm)

Driest Months - September (48.5 mm), August (70 mm), July (91.1 mm) & June (100.5)
Can Guests use the main deck with simply the best view?
Absolutely! The main deck is for our Guests to sit & relax and enjoy the superb views. Breakfast is usually served here as well.
Sorry, but our accommodation is not suitable for children under the age of thirteen.
Can I purchase a Gift Voucher?
Yes you certainly can. We can supply a special gift package to suit your requirements.
Sorry no, we are an environmentally friendly Bed and Breakfast and feel spas do not fit that criteria on Tamborine Mountain. Please view our Environmental Policy Page.
Where are the nearest Waterfalls?
Curtis Falls at Joalah National Park is within a 5 minute drive. There are a number of National Parks with waterfalls on the Mountain. We can supply you with a Map of all the walking tracks on Mt Tamborine and offer any advice and tips when you arrive.
How far away are the Theme Parks such as Movie World and Dream World?
Both are within a 35 minute drive.
Where will we see native birds and animals?
You will see birds at our B&B and Palm Grove National Park has Pademelons / Wallabies if you visit early morning or late afternoon. The local wildlife is very rich and diverse so you never know what you will see as you move around the mountain.
Are there any National Parks within walking distance?
Yes! Both Palm Grove and MacDonald National Parks are just a short walk from the B&B.
You can either choose from our in-house Beverage Menu or visit the local bottle shop. The Wineries are all within a 10 min. drive and there are also 2 Boutique Breweries on Gallery Walk less than a 5 minute drive away.
Are there Restaurants close by?
Yes and most restaurants are within 5 minutes drive of the B&B. Please check with us if you would like further information on the many restaurants on Tamborine Mountain.
Can we order a 'Take Away' meal from one of the restaurants or a Cheese Platter from you and enjoy it on the deck?
Yes! We are also happy to provide Cutlery & Crockery as well.
Do you cater for Evening Meals?
Yes, but for Group Bookings only. Using all 4 rooms and a minimum two night, weekend stay.