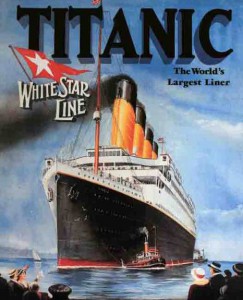 Dress 'above decks' in your black-tie and finery or the more common below-deck attire – even the engineer from the boiling room! – with prizes for couple and groups who choose to dress for the era and a fun Titanic Trivia.
The White Star Ensemble will take you on a nostalgic journey through that fabulous era with the popular light classic of the day, plus hauntingly beautiful songs such as 'My Heart Will Go On' from the Oscar winning movie.
The 6 course dinner, researched from the original 1st Class Menu, has one extravagent course following another, joyous live music from an era no-one will ever forget, plenty of fun and frivolity… this is a night to eat, drink and be merry just as they did back in 1912 during the 'last dinner on the Titanic'!
At just $85.00 per person for a 6 course dinner and concert, this is the best value for your dollar around, and is an evening not to be missed.
Doors open 6:15pm for 6:30pm
Seating is strictly limited! So bookings are essential! — contact us by phone on 07 5545 2540 or by emailing us
Please Note: Eagle's Nest is BYO and does not have card facilities. As it is a set menu, please advise at time of booking of any food allergy or food intolerance.
Seating is strictly limited – bookings are confirmed on payment only
Why not come on up and stay a night or two at Tamborine Mountain Bed & Breakfast? Choose and book your comfortable accommodation and feel free to enjoy the night of wonderful music and revelry before walking the few hundred metres back to your welcoming bed.
Wake up the next morning to the inviting smell of a big hearty breakfast. Re-fuel for the day ahead.
Come on up and make it a great weekend!