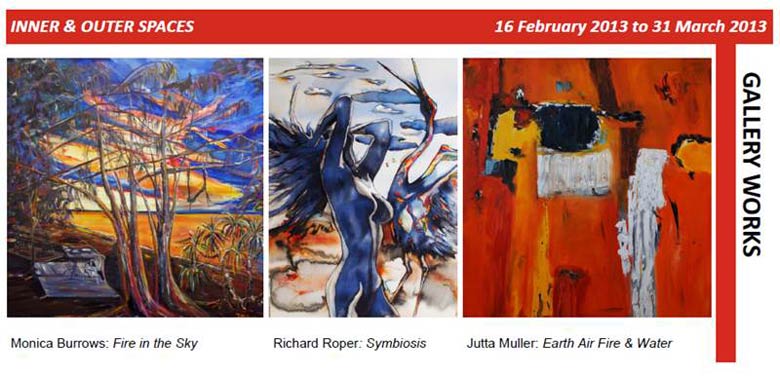 Gallery Works invites you to our new art exhibition Inner and Outer Spaces
Exhibition opening Saturday 16th February 2 – 4 pm — please join us for drinks with the artists…
Monica Burrows
Jutta Muller
and
Richard Roper
This exhibition explores the world of inner emotional responses as expressed by Jutta Muller in her abstract oils on canvas with Monica Burrows' colourful landscape paintings inspired by Tropical Queensland.
Richard Roper has produced a series of watercolour and ink paintings that reflect his concept of that space between outer reality and inner emotions.
Inner and Outer Spaces Exhibition Opening at 2pm Saturday 16th February – all welcome to attend and have a drink with the artists.
Exhibition concludes Monday 31st March 2013
Gallery Hours Friday, Saturday and Sunday 11am to 4pm
1 Bartle Road Mount Tamborine 4272
Telephone +61 7 5545 4590
Find us on Facebook