Faulty Towers Performance on Mount Tamborine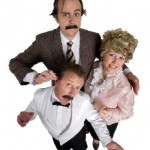 Once, twice, three times the madness!
Enter the world of the snobbish, manic Basil; his domineering wife Sybil; and the hopeless but ever–hopeful waiter Manuel of 'Faulty Towers' TV fame. Be one of the steady stream of abused guests. Experience trying to make Manuel understand what it is you want – even asking for an 'ice bucket' ends up in your being presented with a "nice bucket" – "Que"??? Everything that can go wrong will!! In fact they can best be described as organized chaos!!
Whatever you do, don't miss this unique, thoroughly entertaining dinner experience! Where better than Jacques Manor Restaurant at Bungunyah Manor Resort on Tamborine Mountain!
5 Course Dinner & Show – (Includes Live Entertainment until late) for only $150.00 per person.
Book now on 07 5545 1044 — Email: Bungunyah Manor
Why not stay overnight and book your accommodation at Tamborine Mountain Bed & Breakfast, superb accommodation with 'simply the best views'.
[mappress]