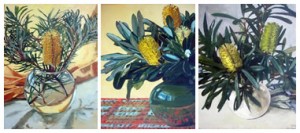 After 15 years in Brisbane, 2010 celebrates Marks & Gardner Gallery's 5th year in their Gallery on beautiful Tamborine Mountain.
Open from Wednesday to Sunday 9am – 4pm, the Gallery is set in a delightful spot where it is so easy to while away a few hours surrounded by quality artwork. The gallery is surrounded by 5 park like acres, with Witches Falls Winery located immediately beside the gallery and other Mount Tamborine attractions close by.
Our current exhibition shows beautiful new paintings by Judith Sinnamon.
Artists Statement – I work from life inspired by the beauty of light falling across and through objects. This light can be diffused soft daylight through a window or night lighting from lamps.

My recent works continue to explore my observations of the play of light falling on and passing through objects. These objects can be solid, reflective or translucent and are often everyday items which take on a new beauty when sculpted in paint onto the canvas. Examples include the translucence of diffused daylight illuminating a piece of mandarin or the reflection, refraction and distortion of light through a glass bowl.
Come up to Mt Tamborine for a day or two and visit the Gallery, be thrilled by Judith's new paintings and other works on display and take in some of the many pleasurable activities available to you on Mt Tamborine.
Considering staying over night or for a few nights and need accommodation on Tamborine Mountain, then why not stay at Tamborine Mountain Bed & Breakfast. You will not be disappointed!