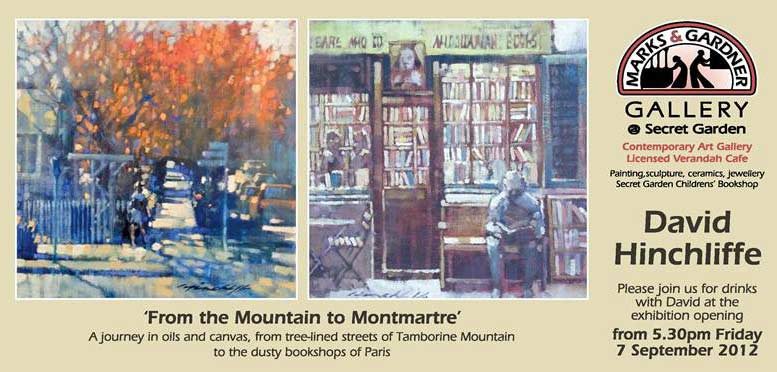 David Hinchliffe's new exhibition, "From the Mountain to Montmarte", opens at Marks and Gardner Gallery at 5:30pm on Friday the 7th of September, 2012.
There"s rarely an artist followed as avidly as David Hinchliffe. A favourite among Scenic Rim residents, David's work is always in high demand, proven in the way crowds flock to his exhibitions. People simply don't fall out of love with his work – once you're interested, you're hooked.
The exhibition is open to the public and is free of charge. For any inquiries, don't hesitate to call Mary or Janene on 5545 4992 or email.
Exhibition continues showing until Thursday, the 11th October 2012
Marks & Gardner Gallery is committed to exhibiting quality contemporary art by established and emerging Australian artists. The innovative exhibition program presents exhibitions by contemporary painters, sculptors, printmakers, jewellers and designers, together with focus exhibitions including original illustrations from children's books, and an annual ceramic exhibition.
The exhibition calendar changes every 4 weeks.
Marks and Gardner Gallery is located on beautiful Tamborine Mountain, nestled in the Gold Coast Hinterland, only a 35 minute drive from the Gold Coast beaches and one hour from busy Brisbane. Tamborine Mountain is famous for its natural beauty, cool rainforests, waterfalls, expansive views and national parks.
The gallery is surrounded by 5 park like acres, with Witches Falls Winery located immediately beside the gallery and other attractions close by.
The Verandah Café is open Wednesday to Sunday 9am – 4pm on the large and roomy rear deck, allowing visitors to enjoy the ambience of the quality art over a light lunch, coffee or glass of wine (we are Licensed).
A most delightful spot to while away an afternoon surrounded by quality artwork and nature at its best.
Gallery Opening hours — Open from Wednesday to Sunday 9am – 4pm