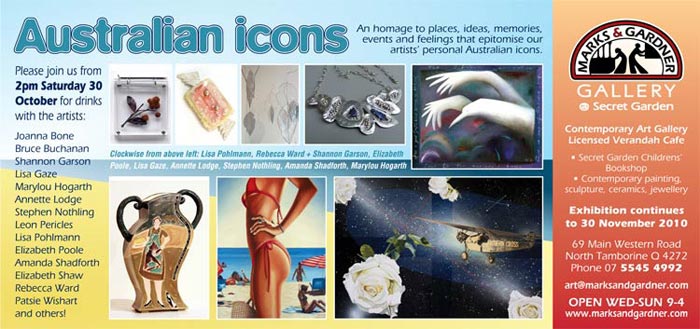 Australian icons. Group Exhibition by Gallery Artists open to the public from October 30th thru to November 30th.
Inspired by a recent Bill Bryson Book – Icons of England, the group exhibition ''Australian Icons' 'by gallery artists at Marks & Gardner Gallery has challenged them to think about their own personal Australian Icons. Not the recognised images portrayed in the public domain – Kangaroos, Ayers Rock or the Opera House, but the things that epitomise to them 'Australia''.
Whether it is the unique lifestyle, special foods, the flora or the fauna – artists have each responded in their own unique way.
Marks and Gardner Gallery is located on Mount Tamborine, the Green behind the Gold™, just 35 minutes from the Gold Coast beaches and one hour from Brisbane. The area is famous for its natural beauty, cool rain-forests, waterfalls, expansive views and national parks.
The gallery is surrounded by 5 park like acres, with Witches Falls Winery and other attractions close by.