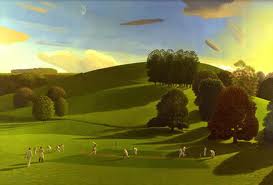 Anyone for Cricket?
Celebrate Australia Day in traditional style with our 'Australia Day Cricket Match' right here on Tamborine Mountain. With 42 a side, there is plenty of opportunity to have a bat, a bowl or field for that spectacular catch. Player or Spectator? Your choice.
A great fun afternoon for all of the family, bring your rugs and chairs to sit on the grass as you watch the match unfold. The Verandah Café will be open serving drinks and food (we are licensed).
Starts around 2:00pm so get there in time to setup your comfortable viewing spot.
Take advantage of the occasion as well to view the quality art in our Gallery area.
Come on up, relax, unwind and enjoy the antics of the locals and visitors alike enjoying a good fun game of cricket.